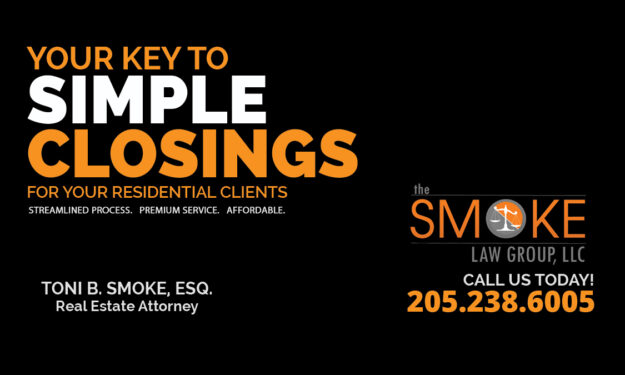 THE SMOKE LAW GROUP is the missing piece to your real estate team.  Our Real Estate Brokers & Agents, Investors, Builders, Lenders and individuals are provided with outstanding service that keeps them informed throughout the process.
​Clients are always first! We offer mobile and after-hours closings.  If necessary, we accommodate split closings if a party to the transaction can't coordinate schedules. We understand that time is money and your time is valuable. 
​We know buying and selling. Whether its residential or commercial or even a simple refinance can be very stressful. Our goal is for every client to leave happy after a smooth, rapid closing!
CLOSINGS MEAN MORE AT SLG!
Ready to find out more?
Contact our office at 205.238.6005 or email us at closings@smokelawgroup.com

SLG provides our clients with a secure, online title, escrow, and closing platform. It empowers us to provide our clients with around the clock real-time updates on the closing process, communicate through a secure mobile app, and provide a document storage portal for our clients to access and e-sign their documents on their own schedules.